Farmgate Prices and Costs
Prices and outside costs are outside the control of the farmer and fluctuate year to year due to global events, changing consumer habits and weather patterns. The below chart shows how the price of vegetables has steadily risen but milk has had periods of sharp falls: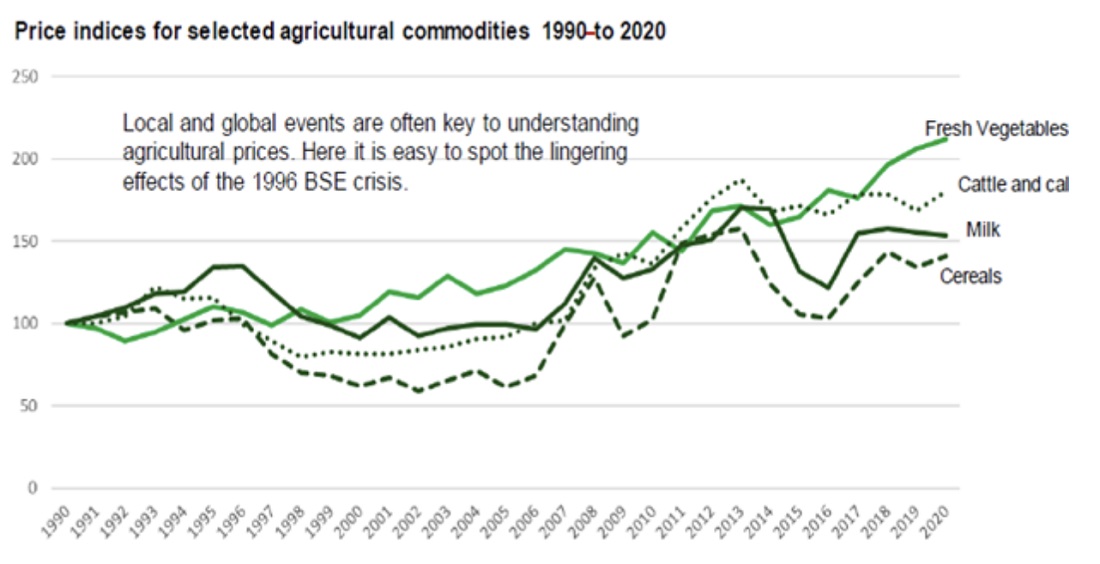 Around half of farmers' costs are variable. Costs increased in 2021 – especially animal feed – by £978m and fertilisers by £559m.1Eardley, Frank. 2022. Rising cost of agricultural fertiliser and feed: Causes, impacts and government policy. UK Parliament. Available at: https://lordslibrary.parliament.uk/rising-cost-of-agricultural-fertiliser-and-feed-causes-impacts-and-government-policy/  Immediate consumption is the biggest cost to farmers and the largest share is animal feed.
The UK farming industry as a whole is in crisis. The reasons are a combination of spiralling costs of fertiliser and overheads, the energy crisis, war in Ukraine, Covid pandemic and regulatory change due to Brexit and the climate emergency.
Ukraine and Russia produce 30 per cent of the world's wheat, and the largest humanitarian organisation, World Food Programme, normally procures 50 per cent of its grain from Ukraine. UN Secretary General António Guterres has said: "We face the spectre of global food shortage in the coming months", and it would "tip tens of millions of people over the edge into food insecurity… malnutrition, mass hunger and famine in a crisis that could last for years". The governor of the Bank of England, Andrew Bailey, has called it a "food apocalypse" and George Monbiot has recently compared the world's food system to the condition of the financial system just before the collapse in 2008.2Lymbery, Philip. 2022.Ukraine War: 'Apocalyptic' global food crisis is being exacerbated by factory farming of grain-fed animals. The Scotsman. Available at: https://www.scotsman.com/news/opinion/columnists/ukraine-war-apocalyptic-global-food-crisis-is-being-exacerbated-by-factory-farming-of-grain-fed-animals-philip-lymbery-3702707 
Despite having enough food to feed the world twice over, the consolidation of the key sections of the supply chain by companies such as Louis Dreyfus Company and Cargill has led to disaster capitalism and price gouging. Acute food insecurity at a crisis level across the globe has grown by 40 million people or 20 per cent, with Ethiopia, South Sudan, Southern Madagascar and Yemen at a "catastrophic" level. This is especially concerning given that Madagascar imported 70 per cent of their wheat from Russia and Ukraine in 2021, while Somalia sourced 90 per cent and the Democratic Republic of Congo, 80 per cent. Afghanistan, Haiti, Somalia and Syria are at a dangerous risk of starvation.3OECD. 2022. Financing Flows and Food Crises Report. http://www.fightfoodcrises.net/fileadmin/user_upload/fightfoodcrises/doc/resources/GNAFC_FFFC_Report2022.pdf
It is no surprise that most of the big grain conglomerates are involved in animal agriculture. The UK uses three times the total amount of wheat annually exported by Ukraine as animal feed.4Our World in Data. 2019. Wheat Exports from Ukraine and Russia in Perspective. Available at: https://ourworldindata.org/grapher/wheat-exports-ukraine-russia-perspective?country=Ukraine+and+Russia+exports~US%3A+Biofuels~EU-27+%2B+UK%3A+Biofuels~US%3A+Animal+feed~EU-27+%2B+UK%3A+Animal+feed  From this we get back only 1kg of protein from animal products for 6kg of grain.5Pimentel, David, et al. "Reducing Energy Inputs in the US Food System." Human Ecology, vol. 36, no. 4, 2008, pp. 459–71. JSTOR, http://www.jstor.org/stable/27654307. Accessed 16 Feb. 2023.  We grow enough crops to solve world hunger if only we would move to a plant-based food system.
A perfect storm of Brexit disrupting supply chains, skyrocketing fuel prices due to the war in Ukraine and rising costs of fertiliser and feed is putting UK dairy farmers in a very precarious situation. The result is that price hikes for milk and cheese at the till are likely to be permanent and will continue to increase according to industry experts. A KW Feeds poll found that 74 per cent of dairy farmers think milk prices are still not keeping up with overhead costs, even though the average price for a pint of milk in March was 36.79p per litre, 23.5 per cent above the five-year average price.6Hunter, Patsy. 2022. DAIRY FARMERS LOOK TO EXTEND GRAZING WITH REDUCED FERTILISER – KW SURVEY. eDairy News. Available at: https://edairynews.com/en/dairy-farmers-look-to-extend-grazing-with-reduced-fertiliser-kw-survey/ Dairy giant, Arla, is declaring a fall in UK milk production and farmers are already selling their cows due to costs. It is thought many farmers will leave the industry as the crisis deepens.
According to the Agriculture and Horticulture Development Board (AHDB), trade disruption and red tape caused by the EU exit, combined with pandemic lockdowns, contributed to 11 per cent lower dairy exports in the first half of 2021 compared to 2020. A lack of people wanting to enter the industry and a reliance on cheap labour from EU countries means that Brexit has severely impacted the operations on dairy farms. A winter 2020 survey by the Royal Association of British Dairy Farmers (RABDF) found nearly a third of dairy farmers were considering leaving the industry due to lack of labour.7RABDF. 2021. A third of dairy farmers consider exiting over shortages, survey shows. Available at: https://www.rabdf.co.uk/latest-news/2021/3/25/a-third-of-dairy-farmers-consider-exiting-over-labour-shortages-survey-shows 
In December 2021, the UK signed a trade deal with Australia and in February 2022, one was concluded with New Zealand. They both eliminate trade tariffs for agricultural products, which means the government and retailers can flood the UK with cheap meat and dairy from abroad. It is likely trade deals will also be signed with other countries, including the US (the famous chlorinated chicken debate). The main issue with these countries is that they often have lower animal welfare standards and can use pesticides banned in the UK. There has been significant resistance from the farming sector to this; however, many farmers feel the National Farmers' Union of England and Wales (NFU) has not done enough given how much lobbying power they have.
Scroll up